Representing quality manufacturers of plumbing products for over 60 years.
Welcome to Hart, Travers & Associates, Inc.
Hart, Travers & Associates, Inc. is a full service organization committed to representing the highest quality manufacturers in the plumbing industry. Hart, Travers provides inside and outside sales with marketing support for Illinois, Wisconsin, Northwest Indiana, Eastern Iowa and the Upper Peninsula of Michigan. We have expanded our customer base beyond plumbing distributors focusing also on engineers, contractors, builders, architects, developers and kitchen and bath showrooms. We pride ourselves in having a professional reputation and continue to grow our business through product expertise and dependable customer service.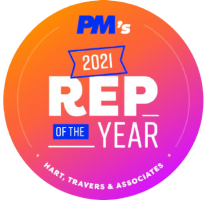 Hart, Travers & Associates was honored to be named the 2021 Plumbing and Mechanical Manufacturers Rep of the Year.